Drone Air Payload delivery drop release hooks, built-in winch system, with 30M cable, automatic take-up and release, you can deliver the payload to someplace the drone can not flight at a lower height, and ensure the drop precise landing, protect the safety of the delivered goods, max payload mount weight 6Kg.
The appearance uses carbon fiber and nylon sintered shells. The modular integrated circuit, ready to use when connected to the power supply, LED warning flashing light, low power consumption, high brightness, and good positioning even at night
An airborne delivery rope suitable for emergency rescue and air payload drop release delivery of materials. High-strength structure design, small size, light weight, good toughness. lt can be used in public security, fire fighting, powerline inspection, and disaster relief rescue supplies in isolated areas.
The industrial class high strength cable, high toughness, the reciprocator ensure the uniformity of the take-up and release cable, gravity drop hook, mechanical design, not easy to decoupling, safe to use.
The power supply from the drone, one end is inserted into the 24v interface of the drone, and the other end is XT30 power.
Perfect compatible with DJI Matrice 600 pro drone, come with a quick-release bracket, plug and play, easy to install. support the DJI M600 pro remote controller expansion kit.
For other multi-rotor drones, control signal via PWM,
Specs:
| | |
| --- | --- |
| Size | 177x110x103mm |
| Weight | 1Kg |
| Operating Voltage | 12V |
| Motor Power | 22W |
| Motor Speed | 6000 rpm |
| output speed | 120 rpm |
| Reduction ratio | 1:50 |
| Max Load | 6Kg |
| Cable length | 30M |
| Cable Retraction speed | 10m/m |
| Way to control, | Remote controller |
| Control Signal | PWM |
| Control distance | 1000M |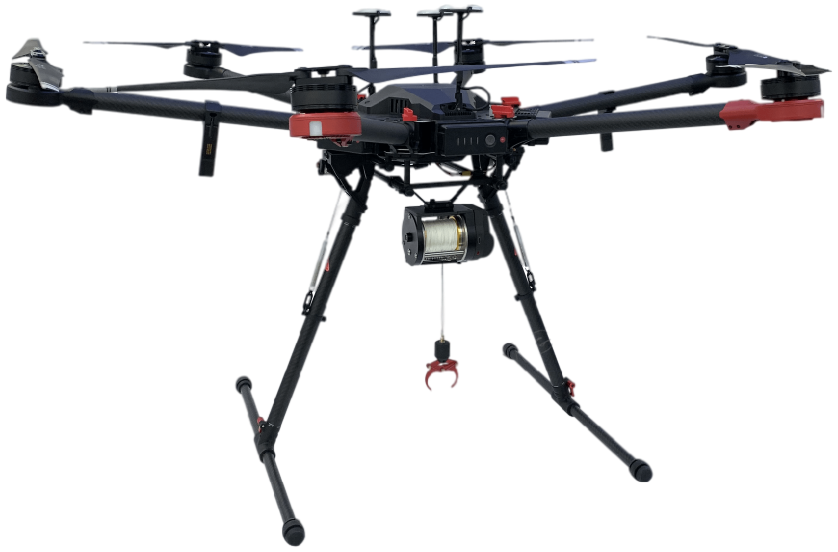 Additional information
| | |
| --- | --- |
| Weight | 3 kg |
| Dimensions | 22 × 22 × 22 cm |