Water Sampling Collection Device equipment for DJI M300,  is an intelligent system specially designed for drone-based BVLOS water sampling devices. lt provides a large water sampling volume, powerful situational awareness and a variety of user-friendly functions. it aims to help users improve efficiency and reduce costs in sampling point navigation, water sample collection at designated depths, data logging, work reporting, etc.
Features:
2L max. sampling volume, Total weight including 2kg water is only ~2.7kg, Well within the max payload limit of DJI M300 RTK.
Ultra-lightweight design effective payload ratio >74%
One-touch auto water sampling at the designated depth, Optional semi-automatic & manual modes.
Built-in high-resolution mm-wave radar1mm ultra-high resolution,Accurate water surface distance detection.
Built-in 180°night vision camera, Starlight level performance.
Multi-ends collaboration, DJI Pilot and browser.
High Sampling Volume, the water sampling device can be integrated into DJI M300 RTK within 10s. it can automatically send the sampling container to the designated depth with one touch on the screen. When integrated with DJI M300 RTK,  offers a Max. sampling volume of up to 2L with a total weight of only ~2.7kg (including 2kgwater), achieving an effective payload ratio of>74%.
No Limitation to Terrain. supports remote target setting and synchronizing the data to DJI Pilot for guidance. After reaching the designated location, the built-in 180°night vision camera can assist in observing the surrounding environment, and them-wave radar can help accurately detect the water surface distance, achieving real BVLOS operation.
Easy Reporting, The sampling process can be synchronized to multi-ends including DJI Pilot and web platforms in real-time. The mission data will be automatically saved, stored and can be reviewed later on the web platform, making data logging and work reporting easy like never before.
Semi-coupled ConnectionThe unique design of the semi-coupled connection significantly decreases the shaking of the container after sampling and reduces the rotational inertia of the whole system for better flight safety.
Built-in 180°night Vision CameraThe camera built-in Speedip has a 1/2-inch sensor, 180°D-FOV, F/2.0 aperture and starlight level performance to help the on-site team handle all kinds of BVLoS operations with ease.
Built-in mm-wave Radar, The 1mm ultra-high-resolution mm-wave radar allows accurate water surface distance measurement, reducing the flight risk of BVLOS water sampling missions.
High-brightness LED Warning Lights, The warning lights show the working status at a glance, providing both system information and safe operations for people near the Speedup.
Remote Target Setting, After the off-site team finishes remote target setting, its coordinates will be automatically synchronized to DJI Pilot, guiding the on-site team to fly to the target and start the mission.
Fully Automated Water Samplingat Designated Depths, The intelligent closed-loop motion controls (distance &speed) enable accurate & smooth one-touch automated water sampling at the designated depth. Semi-auto(speed control) and manual (throttle control) modes are also available.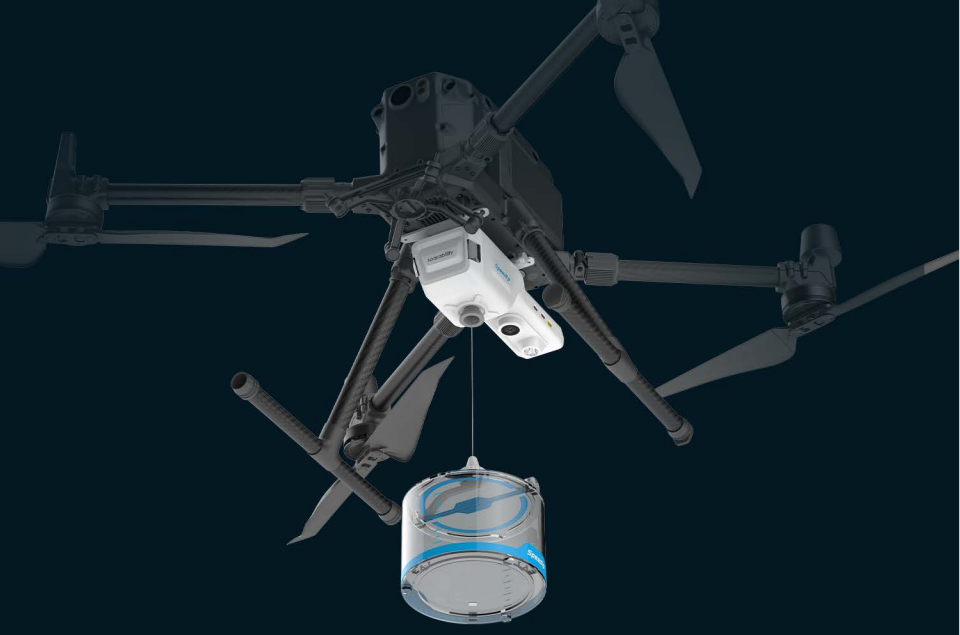 Additional information
| | |
| --- | --- |
| Weight | 2 kg |
| Dimensions | 12 × 12 × 22 cm |