DJI M300 laser methane gas leakage detector based on DJI payload SDK, it is an extremely sensitive gas detection sensor for drones based on Tunable Diode Laser Absorption Spectroscopy (TDLAS). It allows you to very quickly identify methane leaks from up to 80M  away or at concentrations as low as 5ppm.m.Powered by DJI SkyPort, the methane gas detector can be seamlessly integrated with DJI Matrice 200 V2 and DJI Matrice 300 ,DJI M350 drone.
Gas pipeline inspection. During the inspection process, the inspection status (including UAV status, telemeter status, and methane measurement results) can be viewed in real-time. In case of pipeline leakage, the terminal equipment will automatically sound and light an alarm and record data (time, coordinates, leakage concentration, on-site photos) to automatically generate inspection reports later.
Residential building gas leak detection, manual flight, and automatic flight detection for residential buildings. The CH-4 drone laser methane telemeter only needs 0.1S to complete the detection of natural gas leaks at the target point. During the inspection process, the M300 drone does not need to stop and displays the gas concentration in the current household's kitchen in real-time.
Gas station inspection, frame selection of the station area, and automatic production of inspection routes. The solution can also be used for methane leakage monitoring in landfills and methane leakage detection before LNG carriers enter the port. After the inspection is completed, the leak point is automatically marked, and the user can click the icon to view the detailed information).
DJI M300 drone methane CH4 gas pipeline inspection, the workflow.
Obtain the pipeline KML file Familiar with the inspection site environment,
KML file import, route modification edit,
Simulated flight, actual route measurement, route adjustment, automatic operation,
Download inspection data, and generate an inspection report.
Features;
Detects Methane (CH4)
Telemetry distance: Up to 300 Meter
10ms Response Time
5ppm.m Stationary Detection Limit
compatible with DJI Matrice 300 RTK drone,M350 RTK drone
Control and operated via DJI Pilot.
High accuracy, fast response speed, high reliability, and low operation cost,
Application ;
Gas Plant, Gas Storage Tanks, Gas Pipelines, Any difficult to survey areas where methane gas is used.
Specs:
Weight
766g
Detection object
Methane (CH₄)
Detection principle
Laser absorption spectrum
Sensitivity
5PPM*M
measurement accuracy
±10% (100-50000 PPM*M)
Measuring distance
300M
Rated current
<0.5A  Typical value: 0.4A under 12V power supply
Compatible drone platform
DJI Matrice 200 series
DJI Matrice 300 RTK

DJI Matrice 350 RTK

Powered
 DJI Skyport
Controlled
DJI Pilot
Laser safety level
Class 1    (Infrared detection laser)
Class 3R  (Green indicator laser)   Avoid direct shots to eyes
Work temperature
.-20- 60°c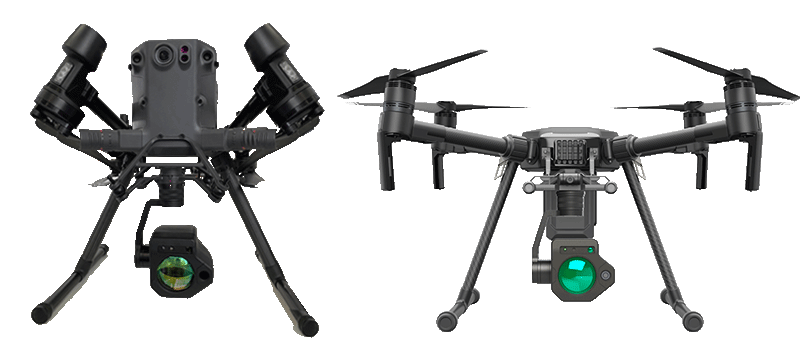 Additional information
| | |
| --- | --- |
| Weight | 1 kg |
| Dimensions | 12 × 12 × 12 cm |